www.mares.org.my
MyMARES Mailing List
For OFFICIALLY REGISTERED MARES CLUB MEMBERS ONLY!
Downloads / Links
MARES
SKMM
Activities
Written by MARES Newsdesk
Friday, 11 November 2011 09:06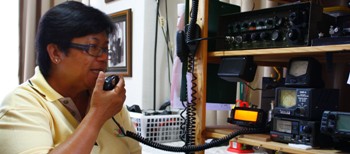 Calling all YL & XYL radio amateurs!
For a special potluck eyeball and YL 2 meter Net at MARES clubhouse.

Event: YL Eyeball & 2 meter Net.
Date: Friday, 26-Mar-2010
Time: 09:00PM (+8 GMT)
Location: MARES Club House
Event Coordinator: Kak Ani 9W2ATU (019-7735544)
Event Committee: Nor 9W2ERL, Maz 9W2MIT

Please contact Kak Ani 9W2ATU to confirm your participation.

Written by MARES Newsdesk

Friday, 11 November 2011 09:05
Thank You To The Following Persons For Participating In This Event!
9M2AU, 9M2SQL, 9W2ZLH... and to others which we may have failed to mention here.


MARES EmComm

(MARES Emcomm support during 2008 Bkt Antarabangsa Landslide)

We would like to invite you to a talk on Emergency Communication by Amateur Radio Operators.

Date: Sunday, 7-Feb-2010
Location: MARES Club House
Topic: MARES Emergency Communication (EmComm)
Time: 10:00AM (+8 GMT)
Presenter: Aziz 9M2AU



MARES

Written by MARES Newsdesk

Friday, 11 November 2011 09:04
Thank You To The Following Persons For Participating In This Event!
9W2NIK, 9W2DE, 9W2ZLH, 9W2ARD, 9M2SQL, 9W2WFT, 9W2PRS, 9W2IZZ, 9W2AJE, 9W2CDI, 9W2DEX, 9W2MCC, 9W2YET, 9W2MDF, SWL Julian. 9W2MIT, 9W2SCX, 9W2ARN, 9W2DPZ, 9W2BVC ... and to others which we may have failed to mention here.

MARES has been invited to participate and support MPSJ's "Gotong Royong Perdana MPSJ 2010" on Sunday 24 Jan 2010 (7AM - 11AM). This annual event will be conducted at the same time in all 24 areas of MPSJ municipalities.

We need volunteers to support radio-communication needs during the event - to join 4 MARES radio-communication teams, supporting 4 main MPSJ gotong-royong areas. Most teams will be using their mobile station (vehicle) as the primary amateur radio station.

Volunteers can contact Hazali 9W2ZLH (SMS 012-6581926 or email 9w2zlh[at]mares.org.my) and provide name, callsign, contact number and mobile station information (Plate Number, Make, Model, Color).

Thank you for your support and 73

MARES

Written by MARES Newsdesk

Friday, 11 November 2011 09:04

To all "FOX HUNT" or "AMATEUR RADIO DIRECTION FINDING" (ARDF) fans

Universiti Teknologi Malaysia's Student Representative Council

(MPMUTM)

with cooperation between

Gerakan Belia 4B Kawasan Johor Bahru

and

Suruhanjaya Komunikasi dan Multimedia Zon Selatan

will be organizing for the first time, an

"UTM Introductory ARDF Open (Fox Hunting) 2010"




Basic workshop and introduction to amateur radio will conducted and is open to all hams community and to the public

.

The workshop is

FREE

charge.

Amateur Radio exhibition will also be held from the morning to the evening of the competition day.




Fox hunt will be held on

Saturday, January 30, 2010

at UTM's Main Lake




Registrations are open now from now until

Saturday, January 16, 2010




ARDF and Antenna Workshop will be held on the day before the competition,

Friday, January 29, 2010

from 3:00PM until 9:00PM

For registration, please refer to this link:

Registration

For basic rules and registration fee, please refer to this link:

Basic rules & participant fee


For ARDF & Antenna Workshop please refer to this link:

ARDF & Antenna Workshop


Great Prizes Awaits You !!!

For Full Notification : please click here

Written by MARES Newsdesk

Friday, 11 November 2011 09:03
Thank You To The Following Persons For Participating In This Event!
Mutalib 9M2SQL, Salleh 9W2STT, Khairul 9W2KRZ, Farid 9W2ARD, Hirman 9W2SUN, Faizal 9M2GTR, Zulkifli 9W2CTS, Azhar 9W2USB, Fadzil 9W2WF, Azizul 9W2FD, Haza 9W2HZA, Hamid 9W2TPT, Gary 9W2WFT, Maz 9W2MIT, Faizol 9W2PJU, Kamal 9M2VIP,
... and to others which we may have failed to mention here.

Salam Sejahtera kepada semua Rakan MARES

Pada bulan November 2009 nanti, akan berlangsung

Global SET

yang dianjurkan oleh

Disaster Division IARU Region 3

. Butiran terperinci adalah seperti di bawah :

Hari :

Sabtu


Tarikh:

14 Nov 2009


Masa :

1800-2200 UTC (2.00pagi hingga 6.00 pagi 15hb Nov 2009 Waktu Malaysia )



Global SET adalah simulasi Relay Emergency message dari satu station kepada station yang lain dengan menggunakan format yang telah di tetapkan.

MARES memerlukan sukarelawan operator dan juga pinjaman peralatan bagi menjayakan acara tersebut. Untuk maklumat lanjut sila hubungi saya di emel 9m2sql@mares.org.my atau no. telelefon

017-6391632.



Penerangan lanjut akan diberikan kepada sukarelawan kemudian nanti.

Sekian, terima kasih.

73, all the best.



Tentatif Program GlobalSET-2 2009

14hb Nov
9.30pagi - Gotong Royong membersihkan kawasan kelab.
11.00pagi - Pasang Antenna.
1.00petang - Rehat
2.30petang - Pemasangan peralatan dan Radio.
3.30petang -Testing Radio equitment.
6.30petang - Rehat
9.30malam - Testing Radio Equitment (sambungan)
11.30malam - Taklimat dan Briefing oleh 9W2STT Salleh.

15hb Nov
12.30pagi - Pembahagian Kumpulan dan aktiviti kumpulan.
2.00pagi - Aktiviti GlobalSET (shift 1)
3.00pagi - Aktiviti GlobalSET (shift2)
4.00pagi - Aktiviti GlobalSET (shift3)
5.00pagi - Aktiviti GlobalSET (shift4)
6.00pagi - Rehat
7.00pagi - Kemas Equitment Radio.
8.00pagi - sarapan
9.00pagi - Tamat

Para sukarelawan GlobalSEt sila bawa setiap seorang headphone computer , laptop, HF Radio, RG Cable dan power extention masing-masing jika ada.
Para sukarelawan GlobalSET sila bawa baju sejuk kerana aktiviti tersebut dilakukan di kawasan terbuka club house.
Makanan pada malam itu diadakan secara "port luck". Sila bawa makanan dan minuman masing-masing.
Para sukarelawan GlobalSET dinasihatkan untuk datang lebih awal dan menepati jadual diatas supaya aktiviti dapat dijalankan dengan lancar.




De 9M2SQL ~(^_^)~



« StartPrev12345678

9

10NextEnd »
Page 9 of 24
MARL News
MALAYSIAN AMATEUR RADIO LEAGUE - MARL / GABUNGAN PERSATUAN RADIO AMATUR MALAYSIA
Membership Status
Example Membership Number: 2103100111
Last DB update: 07 October 2018

Membership fee can be paid by;
- Cash directly to Treasurer, or
- Cheque/Money Order/Postal Order to PERSATUAN PERKHIDMATAN KECEMASAN RADIO AMATUR MALAYSIA, or
- Bank Deposit/Online Payment to BANK ISLAM account 14-041-01-005646-4 (PERSATUAN PERKHIDMATAN KECEMASAN RADIO AMATUR MALAYSIA) and email proof-of-payment to Treasurer.

To download the membership form for membership renewal, surf;
www.mares.org.my >> Downloads / Links >> MARES Membership Form