www.mares.org.my
MyMARES Mailing List
For OFFICIALLY REGISTERED MARES CLUB MEMBERS ONLY!
Downloads / Links
MARES
SKMM
Written by MARES Newsdesk
Friday, 11 November 2011 09:00
Dear MARES Members,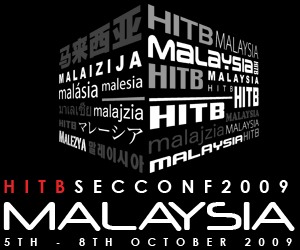 It is with pleasure to announce that, MARES has been invited to
Hack In The Box Security Conference 2009 (HITBSecConf2009 - Malaysia)
, which will be held from
5th to 8th October 2009
, at
Crowne Plaza Mutiara Hotel, Kuala Lumpur.
The main aim of the conference is to enable the dissemination, discussion and sharing of deep knowledge network security information. Since 2003, HITBSecConf has routinely brought some of the most respected members of the mainstream network security arena as well as the underground or black hat community to Asia. The events have always highlighted new and ground-breaking attack and defense methods that have not been seen or discussed in public before.
HITBSecConf2009 - Malaysia will be the 7th conference in Malaysia and is expected to attract over 1000 attendees from around the Asia Pacific region and from around the world. This year's event will see the continuation of HITB Lab session which was introduced last year. These hands-on sessions are designed to give attendees a closer and deeper understanding of various security issues through the methodology of see / learn / do.
To promote awareness about ham radio in Malaysia, the organizer has invited MARES to participate as exhibitor and speaker for the event. With dedicated booth and talk session, under the banner Ham Village, it is hope that with this event, a\ttendees will get a first hand insight into the equipment, licenses and examinations for those interested in getting into the world of amateur radio. Time and weather permitting, MARES will also attempt to conduct a LIVE COMMUNICATIONS FEED WITH THE INTERNATIONAL SPACE STATION (ISS)
- space hacking anyone?
MARES would like to call for volunteers for manning the exhibition booth. The booth will be open from 9:00 am till 6:00 pm, on 7th and 8th October 2009.
If you are interested to become volunteer, kindly submit your name to
Mutalib 9M2SQL (017-6391632 / This e-mail address is being protected from spambots. You need JavaScript enabled to view it )
. At least 12 volunteers are needed for this event. Volunteers are required to assist in setting up, manning and dismantling the booth, perform demo and brieifing to the public about amateur radio and its function and benefits.
On behalf of MARES, we would like all members for your kind contribution.
73 de MARES
Last Updated on Thursday, 11 September 2014 14:25
MARL News
MALAYSIAN AMATEUR RADIO LEAGUE - MARL / GABUNGAN PERSATUAN RADIO AMATUR MALAYSIA
Membership Status
Example Membership Number: 2103100111
Last DB update: 07 October 2018

Membership fee can be paid by;
- Cash directly to Treasurer, or
- Cheque/Money Order/Postal Order to PERSATUAN PERKHIDMATAN KECEMASAN RADIO AMATUR MALAYSIA, or
- Bank Deposit/Online Payment to BANK ISLAM account 14-041-01-005646-4 (PERSATUAN PERKHIDMATAN KECEMASAN RADIO AMATUR MALAYSIA) and email proof-of-payment to Treasurer.

To download the membership form for membership renewal, surf;
www.mares.org.my >> Downloads / Links >> MARES Membership Form