www.mares.org.my
MyMARES Mailing List
For OFFICIALLY REGISTERED MARES CLUB MEMBERS ONLY!
Downloads / Links
MARES
SKMM
Written by MARES Newsdesk
Friday, 11 November 2011 09:07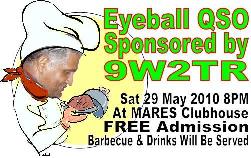 Semua dijemput ke Eyeball QSO Tajaan Rashid 9W2TR di rumah kelab MARES pada malam Sabtu 29May2010. Masuk adalah PERCUMA. Makanan barbecue & minuman akan disediakan oleh 9W2TR. Jumpa di sana!

All are invited to Eyeball QSO Sponsored By Rashid 9W2TR at MARES clubhouse on Sat 29May2010 night. Admission is FREE. Barbecue food & drink will be provided by 9W2TR. See you there!.

MARL News
MALAYSIAN AMATEUR RADIO LEAGUE - MARL / GABUNGAN PERSATUAN RADIO AMATUR MALAYSIA
Membership Status
Example Membership Number: 2103100111
Last DB update: 07 October 2018

Membership fee can be paid by;
- Cash directly to Treasurer, or
- Cheque/Money Order/Postal Order to PERSATUAN PERKHIDMATAN KECEMASAN RADIO AMATUR MALAYSIA, or
- Bank Deposit/Online Payment to BANK ISLAM account 14-041-01-005646-4 (PERSATUAN PERKHIDMATAN KECEMASAN RADIO AMATUR MALAYSIA) and email proof-of-payment to Treasurer.

To download the membership form for membership renewal, surf;
www.mares.org.my >> Downloads / Links >> MARES Membership Form